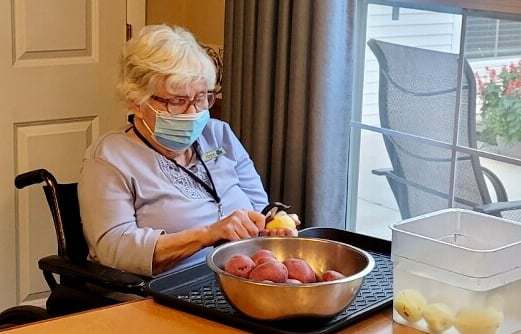 Lending a helping hand!
Alyce is a resident at Birches Assisted Living and Memory Care. She is volunteering in our dining services department. At the Birches, we embrace The Montessori Inspired Lifestyle promotes volunteering, being a contributing member of the community, and building on function so it won't be lost.
Peeling potatoes to help prepare the meal that will be served later in the day for the community to enjoy is the best summary of what Montessori brings to our community.
Also, as our dining services director Diana puts it, it is also good "mind-body therapy."
The freedom and flexibility to live your life the way you want regardless of age, ability, and cognition, with purpose and meaning, is the focus of The Birches' culture. The Birches is a certified Montessori Inspired Lifestyle senior community for assisted living and memory care. Our team is here to encourage each resident by supporting individual choice, their aging journey, and aspirations.
By focusing on what is possible, we create a thriving environment for growth. We continue to create a great place to live and work as one community.
Call us at 630-789-1135 or request a community tour to learn more about the Birches Assisted Living and Memory Care Community.